This week's inspirational photo set takes us from the beautiful sun of the Hawaii sky to the tranquil shore of SW France. Here in the Midwest of America, we've just finished an unseasonably late cold snap in April, and I guess the selection says something about my need for warmer weather. Pinhole plays particularly well at the shore, but as you can see from the following selections, the sea doesn't always have to be the subject of a great seaside pinhole photo – it just adds to the drama.
a quiet dawn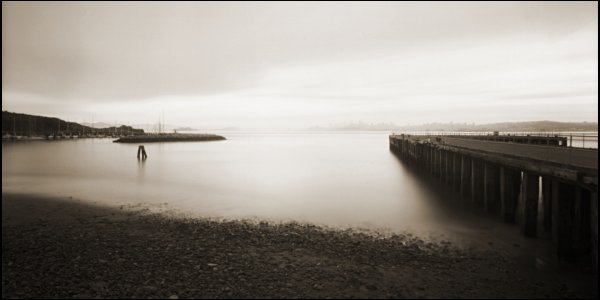 a quiet dawn, ©Timothy Sandstrom 2016
Tim mad this image in early March 2016 at Ft Baker, looking out towards Alcatraz and San Francisco with a 10 minute exposure on HP5+. The resulting image reflects the "slow, contemplative process" that attracts Tim to pinhole photography. He made this image with his homemade 8×10 foamcore camera that was inspired by another design he found online (here). He added "double rabbet" joinery to the corners for stability and light-tightness, with a good dab of gaffers tape to keep it protected from the coastal waters. You can see his rig, complete with a wood platform for stabilization, at an image he posted here. You can find more excellent pinhole work from Tim on Flickr.
Lāhainā Noon

Lāhainā Noon, ©Ross Togashi 2016
We've featured some of Ross's photos before and he's a consistent producer of compelling pinhole photography. He made this photo at Hawai'i State Veterans Cemetery in Kāne'ohe, O'ahu. Ross provides an interesting snippet about this particular photo:
"Twice a year in the tropics, the sun crosses the sky and stands directly overhead. This astronomical phenomenon occurs in May and July and is called Lāhainā Noon. The day and time differs each year. It occurred over Kāne'ohe on Tuesday, May 27, 2014 at precisely 12:28pm.
I stood at the base of this flag pole and photographed the sun as it was straight overhead."
You can find more of his Lāhainā Noon photography in a dedicated Flickr Set. The rest of Ross's expertly created pinhole photography can be found on Flickr as well.
Splash of Sun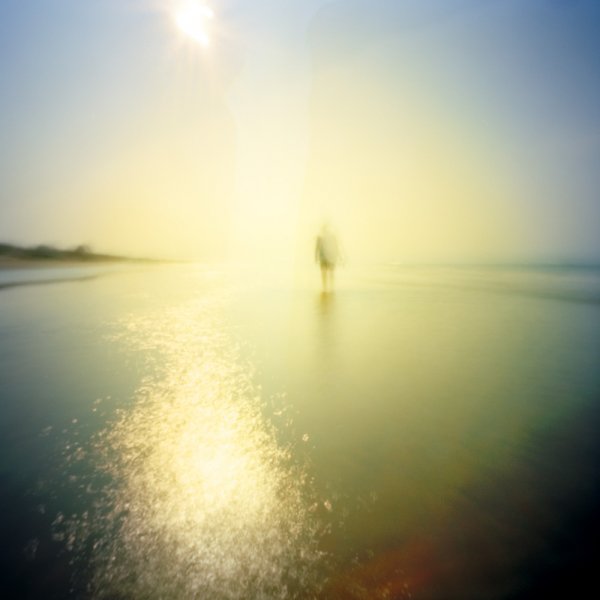 Splash of Sun, ©Jim Rohan 2016
Jim spends most of his photographic creativity putting black and white film through cameras that he modifies for creative distortion. But on occasion he does some pinhole and even some color. In the summer time he finds himself on the beach and this time he had his Zero Image 2000 pinhole camera with him. Without a tripod he hand held the camera and made a 4 second exposure. The result is pretty impressive. You can find more of Jim's work on Flickr, his website, or his blog, and you can follow what he's up to on Twitter.
TTkc made this wonderful image in an oyster village called Piraillan in Bassin d'Arcachon in the Southwest region of France. He wielded a laser cut wooden box made by his ingenius friend known as Ysalis. You can find more of his work, pinhole and otherwise, on Flickr and his Tumblr page.