Many of us who've been around photography for much time at all have been introduced to the concept of the Golden Hour – that time just after sunrise and just before sunset. The light during this time can be truly amazing, and has served as the drama of numerous photos over the years.
The challenge for us pinholers though, is that our cameras often require a longer exposure during these times of day. Moreover, as the exposure time increases, the intensity of the sunlight can change rapidly, leading to complexities in our exposure. The effect can be compounding, especially on slower capture methods such as paper negatives.
In my photo, Elliott Bay at Dusk, I had my Zero Image 4×5 loaded with a paper negative and pointed at a scene that originally metered at a 5 minute exposure. By the time I was done shooting, the scene was metering at 20 minutes. Overall I exposed for 15 minutes and got a result I'm quite happy with, albeit with quite a bit of nailbiting for that 15 minutes.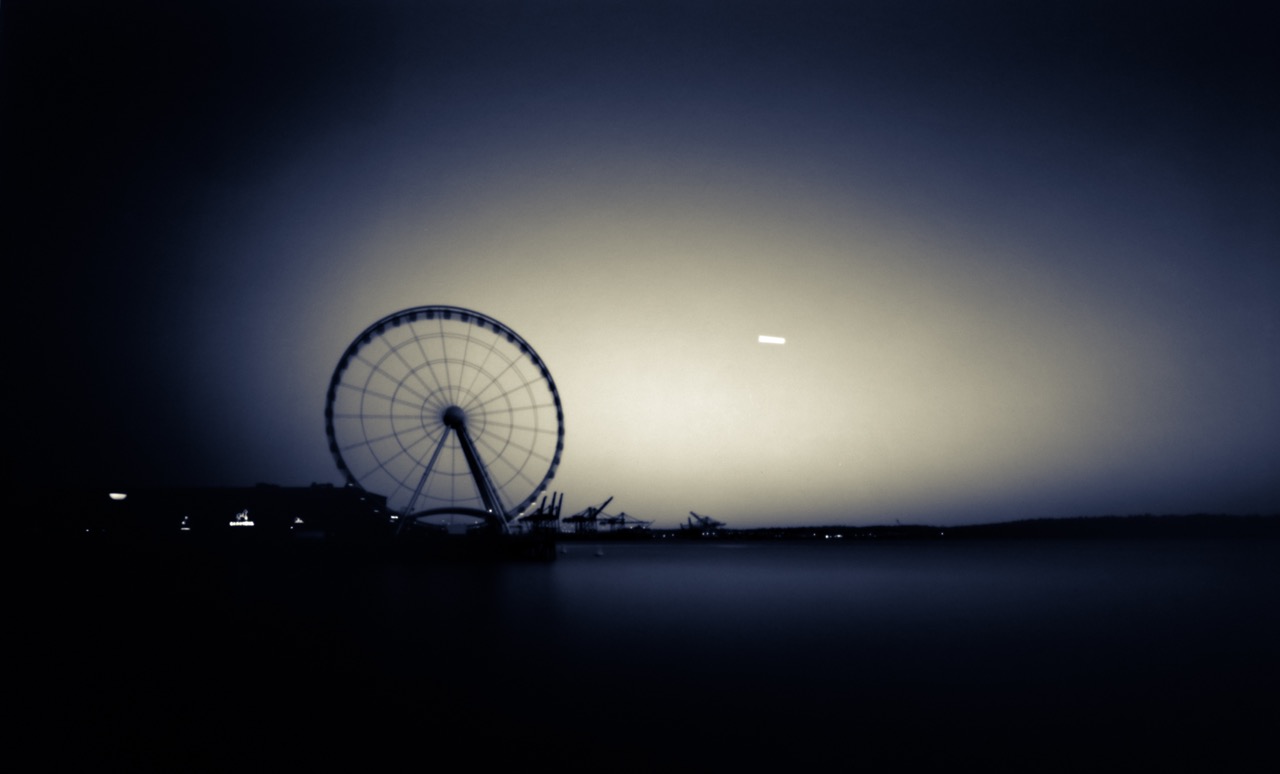 For this article we want to learn a bit about working with the light during these challenging times of the day, and I decided to interview Eddie Erdmann for his insights. A quick look at Eddie's Flickr profile shows that he's quite adept at shooting pinholes during sunrise and sunset, and can speak with a bit of "been there, done that" authority on the matter.
Do you have a specific amount of time before sunset or after sunrise that you find works best? 
It varies. Sometimes the best part of a sunset occurs before the sun is down, and sometimes it occurs well after the sun has dropped below the horizon. If I have a particular location in mind for shooting the sunset, I will try to arrive 30 minutes to an hour before the sun goes down so I can watch and wait for the scene to unfold. In Alaska sunsets can last for a very long time in the summer, so when shooting a sunset here at that time of year, I may end up hanging out for a couple hours. When I'm in the Lower 48, particularly on the Gulf Coast, sunsets are fairly quick because the sun goes down at a much sharper angle. Sometimes I don't even bother to take my cameras out of my bag because the sunset isn't especially inspiring. When I'm shooting sunrises, I employ the same 30-minutes-to-an-hour approach. I find that the best moments occur from 30 minutes prior to 30 minutes after the sun rises.

How do you meter for a sunrise or sunset? 
I usually spot-meter an area of the scene that I estimate should fall within the middle range of brightness values and go with that exposure time. Usually I choose a cloud that isn't catching the full rays of the sun. If I'm shooting with Fuji Velvia, I tend to spot-meter some of the brightest parts of the scene as well so as not to blow out the highlights too much. When shooting with Kodak Ektar or black-and-white film, I don't worry so much about that.
Do you adjust your exposure time as the light changes? 
I usually decide on an exposure time before I open the shutter. I determine this time by metering, compensating for reciprocity if necessary and then tacking on a few extra seconds (or as much as a minute or more for longer exposures) to accommodate the diminishing light of the sunset (or subtracting a few seconds for a sunrise). I find that rough approximations do just fine when working with long exposure times.

Do you find that you need to adjust for reciprocity in the middle of an exposure?
If I determine that the scene will require an exposure time that will require me to take into consideration the film's reciprocity characteristics, then I will do so, but I really don't think about this once I've opened the shutter. I meter the scene, and if necessary I consult my film's reciprocity data to decide how much I need to adjust the exposure. Then I open the shutter for the amount of time that I've determined would be best. A good thing about pinhole photography is that because the exposure times tend to be pretty long, you really don't have to worry about being terribly exact. I don't spend a lot of time calculating exposure times. Usually, it takes me only a few seconds to meter the scene, consult a reciprocity-failure chart (actually, at this point, I rarely look at charts–I use only a few different types of film, and I have a decent understanding of their reciprocity) and perform a simple calculation in my head.

We thank Eddie for taking some time out of his hectic schedule to help us capture the amazing light that exists at these times of the day. Hopefully some of this experienced input helps our readers to take advantage of the changing sunlight! Do you have additional questions? If so, put them in the comments and we'll follow up with Eddie to respond back to you!