By this point we may have inspired you to dream of making your own wonderful pinhole photos and explore how this technique might help all of your photographic endeavors. One of the first decisions to make is exactly how you might go about doing that. Never fear! While in olden times some of us had to scratch and scrape together a hodgepodge of a camera, nowadays there are very high quality cameras available for very reasonable prices.
Zero Image
The Zero Image line of cameras are modern classics. For years now, Zero Image has been producing collectiblecameras out of Hong Kong. They are renowned for their aesthetic beauty and toughness, and are built to exacting standards. In addition, these cameras have some great optional features including bubble levels and cable-release shutters! A quick Google search yields an impressive array of beautiful results. They offer cameras in 35mm, 120 (medium format), and 4×5 formats – all with some cool optional features.
Find it at: Zero Image's Website ($103-$455)
Holga Pinhole
Cheap, rugged, and reliable – that's the Holga Pinhole camera. Designed and made in China for the common man, the Holga has caught the attention of many shutterbugs in the last 15 years, and nowadays there's dozens of configurations. For the pinholer, there's standard, panoramic, and stereo pinhole. It's recommended that you get the cable release accessory because it can be difficult to keep that camera steady while activating the shutter.
Find it at: Holga Direct ($39)
Reality So Subtle
This medium format panoramic shooter uses a curved film plane to avoid distortion on the huge 6×17 frames it produces. It also features 2 pinholes configured to give options on the exposure perspective. If you want to buy wide format, this would be a wise choice.
Find it at: Reality So Subtle (165 €)
NOPO
NOPO Cameras are beautiful works of art that will look equally good on your mantel as they do on your tripod.They are crafted of walnut, cherry, and birch woods combined with the Zen-like design ensures these will be a proud piece of your collection for many many years. NOPO offers 35mm and 120 (6×6) format cameras.
Find it at: NOPO (123 – 165 €)
Ondu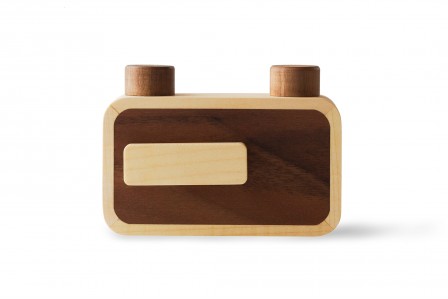 The Ondu cameras give the NOPO's a run for their money in terms of modern design and handcraftsmanship. A key difference from the NOPO's are that Ondu cameras use a lever shutter instead of a lens cap. Ondu cameras are crafted out of walnut and maple and, judging from the joinery, are also well built and ready to be handed down for generations. Ondu offers standard and pano frame 35mm and 120 cameras as well as 4×5 cameras.
Find it at: Ondu (90 – 170 €)
Ilford Obscura
The Ilford Obscura is produced by photographic manufacturer Ilford and has developed a reputation as a good starter set for those wanting to explore the 4×5 format and paper negatives. It's a solid shooter made of PVC and it looks all business. One nice thing about it is that it comes with paper and film so you can try out each if you're so inclined.
Find it at: Ilford Obscura Pinhole Camera
 ($100)
The Pop-Up Pinhole Company
The Pop-Up Pinhole company produces two cameras – the Viddy and Videre – both of which are made of cardboard and come as a "some assembly required" package. The Viddy is a 35mm shooter and the Videre is a 120 shooter. Both are about as handsome as you can get for cardboard, but have built a reputation as a fun shooter.
Find it at: Pop-Up Pinhole Company (£36)
Pinhole Printed
The Pinhole Printed company is one of the first in the industry to utilize 3D printing in their manufacturing process. They offer two cameras: the Flyer 6×6 and the Clipper 6×18 w/curved film plane. Both come with rugged appeal and, while I haven't used them myself, appear to provide a solid experience. They also feature a sporty blue rubber band that will give you street cred to other pinholers in the know.
Find it at: Flyer 6×6
 ($49) and Clipper 6×18
 ($79)
DSLR body caps and pinhole lenses
If you're already a DSLR shooter and you would prefer to just add a pinhole option to your regular rig, you're in luck. There are a number of body caps that have a pinhole integrated so that you can shoot pinhole photos with your DSLR. Purists may scoff, but you'll still create some great images.
Find it at: Holga Pinhole Lens For Canon DSLR
 ($15.99), or Amazon, or Google them – they're everywhere.
Have a noteworthy maker of pinhole cameras that we skipped? Put it in the comments below!